CRI
- China Radio International site is written in Tamil language and organised by China Govt. CRI was founded on 3 Dec 1941 as a Radio station broadcasting to global audience. CRI broadcasts 61 languages around the world....
http://tamil.cri.cn
CRI website posts many interesting features about China. It has
News, Politics, Science, Culture, Finance,
etc
sections in Tamil. There is a special section for China's Tibet.
In the year 2000 CRI began to host in the form of website. There is also a learning section for Tamil. Interesting slideshows and photos are found in this site.
Morning(India) IST: 7.30-9.30 AM -22.06 m -13600 KHz / 21.84 m -13735 KHz
Evening(India) IST: 7.30-9.30 AM -31.35 m -9570 KHz / 31.04 m -9665 KHz
Sri Lanka FM: 97.9FM - 1.30-3.30 PM ; 7.30-9.30 PM
Also refer the below link available in thehindu.com


Chinese-Tamil Dictionary publication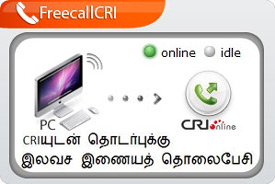 Contact CRI by free calls